You are currently browsing the category archive for the 'Uncategorized' category.
Today's Photo A Day Challenge prompt is 'shadow'.  I pulled this shadow picture from the summer archives.  A line of peace signs.
Today's Christmas/December mascot entry into the seasonal parade is "Bundled up, Big Smile Snowman".
The snowman made snow angels in Neva's snowy fur this morning.  HA!  So silly, and Neva was less than impressed by a mascot on her back.  But gotta give her credit, she endured.  AWW.
The day's menu collage…..breakfast was a bagel thin with light cream cheese, I had some grapes during the morning, I met my Warrior friend Sharon for sushi at lunch (I had a double spicy tuna roll and an "energy roll"), when I got home from work we had a glass of wine, some goat cheese and some grapes and dinner tonight was baked meatballs with vegetables and rice.
It's another record breaking cold day today.  But…if we're bundled up (like today's mascot) it isn't too bad.  There were more funky ice formations on the ground when I walked to work today…
…this tiny pop of wilting yellow caught my eye….
…as did the words on this sign pinned to a lamp post.
Christmas trees are up in the lobby of the building I work in.  Our security guard, my Santa and I tried to be a bit artistic.  Better photos of these ornaments will come….
More Christmas "things' in the blocks around my workplace…..
Dennis and I had some plans after work tonight, but at the last minute they've been rescheduled.  Which may be a bit of a blessing in disguise as we both felt a bit "sniffley" today.  Which meant I walked home, and we hunkered down and stayed warm for the night.  Here are a few shots from my icy walk tonight and in festive grocery store area….
Let the weekend begin!!!!!
Today's Photo A Day Challenge prompt is "In the Cupboard".  Here are my little port glasses in front, and matching wine glasses behind.  Cheers!
Today's December/Christmas mascot of the day is "Elf in a Shoe".
The days menu?  Breakfast was the same as yesterday – greek yogurt, granola and a banana.  I had the last of the green juice during the morning.  My lunch was a ham sandwich on Little Big Bread with carrots and grapes.  Later on, I had an apple and a mini kit kat.  Dinner tonight was tortellini with light alfredo, pesto and Parmesan on top and garlic bread on the side.
Per usual Thursday, I met Michelle and her famous hand for coffee before work.
Her hand not only posed with our beverages, her coat and my skirt could have been made in the same factory.  OOOH…great minds think alike…no wonder we're friends. 
The temperature continues to fall here, but the sun was out for most of the day, so I took the opportunity to go for an icy walk at lunchtime to earn some activity points.  Come with me….
The dog below is "Chili'.  Chili's owners are away, and their dogsitter and I were chatting.  She asked if I'd take a few pictures of the dog so she could show them to Chili's owners.  Chili apparently doesn't mind being chilly!  (groan)  Awww!
On the way home tonight, I walked by a lovely little church with a prayer bench outside….
And tonight, Neva was "helping" me with photo editing.  NOT!!!  NEVA!!!!  (for the record, I didn't stop her playing with the lens cap.  Aww)
One more work day and bring on the weekend!  Anyone have any exciting holiday plans for the weekend?  Ho, ho, ho….
I know…what else is new, right? 
Today's Photo A Day Challenge prompt is "Tiny'.  This is the teeny tiny metal Buddha I bought Dennis at one of the street festivals we went to last summer.  It is for him to carry around in his pocket when he needs some "calm".   Namaste!
And today's entry into the December/Christmas mascot parade is "Mr. Johnson".
Given the title…you can't say I didn't warn you.  :)  As you can see, Mr. Johnson has a fairly impressive Christmas package for us.  And if I were to put a string on his head and put him on our tree, I'm sure he'd be well hung.  LOL!  Yup, I went there…..but we move on!
The day's menu was yogurt, granola and a banana before work, green juice at work, I made a kale salad with orange, beet, mint, light feta and a few cold nugget potatoes leftover from last night's dinner.  I had two little mandarins before yoga, and this evening, I met my friend Tracy for sushi.  We split a veggie tempura, and I had a double spicy tuna roll and a "Las Vegas Roll".  I have NO idea why it is called a Las Vegas roll.
And like I've done for the last few days, I'm racking up the activity points with my walks.  I walked to work this morning, took a frosty but sunny walk at lunchtime, and I walked to my super sweaty power yoga tonight.  And per normal, here are some pictures from the day.  The first set are from my walk to work….
At lunchtime, I walked around the neighborhood around my work.  I saw some funky/questionable things in store windows, a movie set (that rumour has was for the 50 Shades of Grey film), some beautiful buildings, interesting signs and a lovely established community garden.
And finally, just a few from my "very cold so briskly walked to yoga" walk.  Brrr….
So past my bedtime and I have an early start tomorrow, so I'll hit publish and go!  Question of the day though….is it freezing in your neck of the woods?
Today's Photo A Day Challenge prompt is "Silver".  I took this picture today in a lobby of a medical building.  I saw the silver and walked in.
Today's December mascot parade entry is "Ratty Outfit Mouse Santa".  Not only is the outfit ratty, it's ill-fitting and really, quite awful!  Happy Holidays!
Ratty Mouse posed by the day's meals, this morning I had an almond milk/banana/frozen strawberry smoothie, I took some apple/kale/ginger juice with me for the morning, lunch was my bento box with crunchmaster crackers, tzatsiki, carrots, 3 dolmades and a leftover turkey sausage from the weekend as well as two mandarin oranges, this afternoon I had an apple and dinner tonight was a chicken quarter cooked in Greek salad dressing, with sauteed peppers topped with mint and light feta, lemon roasted potatoes, and more tzatsiki.
The sun was shining here in Vancouver today, but the temperatures are dropping.  And will be even lower tomorrow.  But, I bundled up and went for a lunchtime walk for some exercise and fresh air.  Here are the day's shots from my very frosty day walk.  I stepped very carefully so I didn't slip on ice….
…and a few pics from my even frostier walk home.  The dog below is "Roscoe", one of our IT guy's new (to him) 4 month old.  He may look intimidating, but he is SOOOO friendly!  Awww, it's a match made in heaven.
And finally, the day's black and white experiment.  I went for the texture here….
That's a wrap for Tuesday.  I'm off now to make lunch for tomorrow, get my yoga gear and work wear ready and call it a night.  Happy Hump Day to all!
BIG Happy Birthday to my nephew Ryan, a talented musician who is going to win a Grammy one day.  Ryan informed me today that he will NOT be changing my diaper for me when I'm old. 
Hopefully, since he's winning Grammys he'll be able to afford to pay someone to do for him!  I'm counting on you Ryan!
Today's Photo A Day Challenge prompt is "Where I stood…"  I used this photo that I took a couple of weeks ago.  Like this woman, I have in the past, stood at this bus stop.  For the record, my bum isn't as tiny as hers…but who knows, maybe my boobs are more impressive to compensate.  Kidding!!!! 
Today's "Christmas Mascot parade" entry is "Platypus Santa".  So..Platypus Santa walks into a bar, orders a drink, the bartender says "wanna pay now?" and Platypus Santa says "Nah, just put it on my bill!"   (insert groan here!)
Platypus Santa stood by my meals for the day, breakfast was greek yogurt with fruit and gingerbread granola and some of the energy seed mix I got last week; lunch was leftover roasted cauliflower with panko, Parmesan and a piece of turkey bacon cooked and crumbled on top, 3 dolmades and 2 mandarin oranges; before yoga, I had an apple and one of the Christmas cookies I got at the SPCA fundraiser on Saturday and dinner tonight was a chicken and veggie stir fry in teriyaki sauce over brown rice.
I also took a jar of green juice to drink at work.  When I was at the vegetable market yesterday, I picked up some of the discount apples for $1 per bag.  Last night, I pulled out our juicer and juiced them with kale and ginger.  May not be pretty, but it tastes so good!
I did all kinds of walking today, this morning I walked to work, at lunchtime I went out for some fresh air and sunshine (but holy smokes, it's COLD!) and walked around the Olympic Village and after work, I walked to yoga.  Here are a few shots from my travels today.
And finally, I'm starting to play with some black and white and colour manipulation of images…these are some of my very early attempts.
Ok…enough assing around with pictures and picmonkey, time to call it a night.  How's everyone's week going so far?
Today's Photo A Day Challenge prompt is "Red".  I pulled one of my favorite shots that I took in November….red mushrooms.
Very excited that it is December.  Why?  Let the Christmas mascot parade begin.   "Mr. 1st" is Mr. Potato Head Santa!
Mr. PHS stood with our breakfast, turkey sausages, scrambled eggs, toasted Little Big Bread and jam (no photo of the jam).
It was supposed to be a miserable and rainy day today, and it started out that way, but the clouds shifted and we had unexpected sun.  Which made for some pretty pictures when I was out grocery shopping.   While I was out, and before the clouds and rain moved back in, I took a little walk around the park to get some exercise and some fresh air.
By the time I was home, the clouds were rolling in.
Dennis and I went and had a visit with Helen, then attempted to venture downtown to see some Christmas hoo hah, but sadly, the traffic was gridlocked and and we were stuck until it was too late.  Boo!  Sooo, we turned around (when we could) and came back home.
We had the last of the bits and bites tonight….
…and dinner was some roasted flank steak with bbq sauce,  steamed green beans and roasted cauliflower (topped with light mayo, panko and Parmesan).
So much for the weekend.  sigh.  WHY do they fly by so fast???  Oh well, lets put one food in front of the other and move forward to a good and festive week.
I didn't find an appropriate photo to close out the November Photo A Day Challenge which had the prompt "All Done".  November itself is all done, and we move on to December.
I got up this morning, had a banana…. (no need to photograph it, when you can go to google images, which takes you to glitter-graphics.com for this)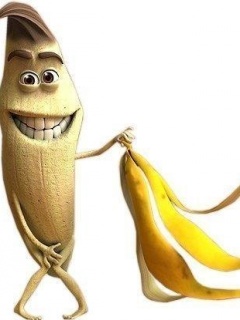 …and went to my favorite sweaty, power yoga.  Before my class, I ran a quick errand for a friend which took me into the Granville Island Kid's Market.  Being the big kid that I am, I took a quick walkabout, and took some colourful photos.
I guess this crow liked standing on the yarn bombed bit of a railing….
…and here are a few other bits of whimsy…..
After class, I met my friend Melisa for sushi.  We ordered a double spicy tuna roll, an energy roll, a smoked salmon roll and a mango paradise roll and split them.
We had a great catch up, then parted ways.  I went to a fundraiser/craft fair for the SPCA and  got a couple of little stocking stuffers, then ran a couple of other errands….then came home and slothed for a while with Dennis and Neva.
I have finally taken the time to this month's Food Network Magazine.  Funny that, Trisha's favorite ham isn't Garth Brooks at all…it's REAL ham!  :)  silly….I'm the ham for writing that!!!
Later in the afternoon we had some tortilla chips and salsa.
Dinner tonight was just some tortellini with light alfredo and pesto, and whole wheat baguette with some olive oil and balsamic.
We also had a glass of red wine.
I may have a chocolate chip cookie later.  (I bought some at the spca craft fair)  And now, I'm getting back to my magazine and some R&R.  How's everyone's weekend going?
Today's Photo A Day Challenge prompt is "Black".  I posted this pic of the black crow in the black silhouette tree.
My breakfast this morning was a mini bagel with peanut butter, a banana and some of the seed sprinkles.
After breakfast, I was a woman on a mission.  I had the day off work and took a list, my debit card, Christmas CD's for the car….
…made a pit stop at Starbucks for my non-fat, half sweet gingerbread latte…..
…and off I went to bang out my Christmas Shopping.  I kept the focus other than the unplanned dilly dallying in the Pottery Barn ("oooh, shiny things") and Garden Works ("oooh, shiny things and plants") but mission accomplished!  Christmas shopping is all but done!  (there were some unphotographed gyozas eaten at lunchtime too)  I bought NONE of the items in the photos below, but they were in store windows and caught my eye.   Come window shopping me with…..
I liked "White Friday"….
….I heard, on pretty good authority, that Sarah McLaughlin used to live in one of these apartments.  Ooooh….
….self portrait!  Can you see me?  And can you see me again? 
When I got home, I did "show and tell" for Dennis (the gifts…what did you think I meant?

) and had a glass of red wine and some bits and bites.
We made pizza for dinner tonight.  My half was topped with veggies (onion, peppers, mushrooms, spinach), some of the chicken leftover from last night, light goat cheese and bbq sauce.
And now, let the weekend begin.  Anyone have any early holiday plans?
BIG Happy Thanksgiving to all my readers and friends in the U.S.  Hope it's been a great day for you.  And hope everyone everywhere else had a great day too!   In honor of U.S Thanksgiving, my mascot today was Pilgrim Duck.  Not only did he pose with my meals, he made the rounds with me today too.
My meals?  A toasted sandwich thin with peanut butter and seed sprinkle, a fig bar, some soup, a few nuts and bolts, a glass of white wine and a rotisserie chicken breast with broccoli, potatoes and cranberry.
Before work, Michelle and I met for our weekly coffee.  We tried to float pilgrim duck in my coffee…it didn't work out well, but her famous hands/finger held him up. 
The sunrise this morning was beautiful…..
When I was walking to meet Michelle, I found some very late season mushrooms with really interesting undersides.
I went for a short walk at lunchtime.  I was determined to get a shot with pilgrim duck down at the duck pond not far from work.  Not easy to photograph as I found out….
…however, I did get some other bird shots that were decent (and some of the birds were having pretty "bad hair days" (see bottom shot on the right)….
…this is the BIGGEST wasp nest I'd ever seen…
…some other shots in the park….
…and today's mascot adventures.  (silly!)
And I passed by the animal hospital with the kitties for adoption.  I actually witnessed a good news event.  A woman with 3 standard poodles was outside, she lost a cat in June, and one of the dogs is pining for his feline companion.  The little tabby mom apparently connected with the dog through the window, and the woman decided to adopt the tabby with white feet today.  AWWW!!!!!!!!   By tonight, this little kitty and the dog will be together without a window separating them.  AWWWWWW!!!!  :)   (now, the two kittens with her just need to flirt with people and find a home too!)
On that happy note, this post is a wrap.  This is actually my Friday, I still have vacation days to use up, so I've booked tomorrow off and have plans for the day.  Before that though, time for some stretching and relaxing and celebrating another happy ending for a rescue animal.  Yay!
Today's Photo A Day Challenge prompt is "No!".  Gumby NO!  Do NOT play with matches! LOL!
I made a picmonkey collage of the day's menu.  I used picmonkey quite a bit tonight….breakfast this morning was a sandwich thin with peanut butter and some of the energy seeds, lunch was "picky lunch" made with things in the fridge that needed using up – leftover pakoras and chutney, kale dip, half a roti, and some dolmades.  One of my colleagues gave me a mini white/milk chocolate kit kat this afternoon, and after yoga, I had some leftover pasta with pesto, feta and a piece of bacon crumbled on top.
At lunchtime I took a walk around my work neighborhood…..I walked by the HUGE tents that is being erected for the show Cavalia which will run for a month starting in a week or two.  The site/tent/facility is massive, and amazing it is only for a matter of weeks.
…and here are some of the signs that were behind a fence.
…there were very proud looking birds in the area – nice strut Mr. Seagull….
…very splashy ducks…..
….and some very pretty birds, Dad…what are these?
….the little ragdoll kittens I saw last week have found homes, now, there is mom tabby, baby blackie and a fluffy kitty who just need homing.  All together now…AWWWWWW!
I also passed by an off leash dog area, this is "Casper" and "Ricky"….
…and Casper making a friend.  All together again…AWWWW!
The pattern on this log caught my eye….
…the man watching the police boat provided a perfect "foreground stance"….
…and my optical illusion for the day.  If you don't look too closely, it ALMOST looks like the police boat is moving up the ramp railing.   As I said, don't look too closely!
Someone has adorned a hedge with a fake poinsettia for the season….
I liked the words on the back of this office supply delivery truck…
And these words were written on a concrete column below the bridge.  I like it.
After work I walked to yoga (my favorite sweaty Wednesday class), then I walked home after class.   Here are a few night shots, then I'm going to call it a night…. the white structure on the right is the big Cavalia tent lit up.
No brave souls having drinks outside tonight….
The folks at the cement works have decorated for Christmas….
I loved this gorgeous stained glass on display….
…but beware!
I found words of wisdom written in chalk….collect these things….
…and words to live by on a wall too.
Speaking of happy, I hope all my U.S readers have a very Happy Thanksgiving on Thursday.  Enjoy all that goes along with the holiday.  And for the rest of us, let's have a happy day too.