I realized/learned a few things today:
1)  Apparently, there IS such a thing as "too much coffee".    I lived it, I bounced off the walls, I crashed hard, physically and emotionally (see #5).
#2 – I'm not really sure why, but I HATE the term "baby bump".  HATE it.  I realized this today after too much coffee.  (see #1 above)  I don't have, never have had and never will sport a baby bump of my own, but I'm proudly displaying my "parmesan pooche" in my stomach area!   Beat THAT Jessica Simpson! 
#3 -  As of today, the Canadian Penny is no longer officially in circulation.
I was reminded of this when I read the news this morning.  What does that mean?  That Dennis and I have a VERY large jar of "collector's items".  Any takers?
#4 – My friend Suz enlightened me today on the differences between a "stewing hen", a "fryer" and a "utility chicken".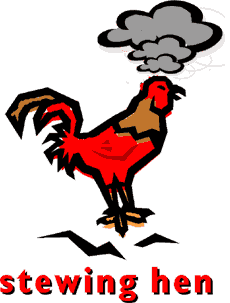 The stewing hen is the oldest and toughest.  Which today made me the human equivalent, I'm older, I'm tough and I stewed on things (especially the term baby bump – see #2).
#5 – Finally, here in Canada the famous Super Bowl ads aren't shown during the actual broadcast.   We have to wait until the next day and catch them on YouTube.  A colleague of mine sent me the Budweiser ad with the baby foal this afternoon.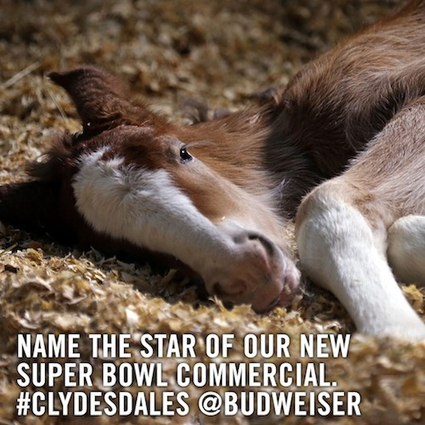 When I saw it, I welled up in tears.  (see note about crashing hard after coffee in #1)  It's lovely and touching (albeit predictable), and that baby Clydesdale???  SO cute!!!  It didn't make me want to run out and buy Budweiser, but it did make me reach for a kleenex, so I think they should name the baby "Tissue".
As my day's ramblings end, my point friendly menu recap begins:
Breakfast was a Roz McSausageMuff (english muffin, egg, a piece of veggie sausage (leftover from brunch yesterday) and some relish).
I had an interesting "snack" this morning, I had a leftover pancake, 1 tbsp sugar free syrup and half a banana.
Lunch was a salad made with spinach, cucumber, roasted beet, orange, mint, 2 dolmades, 2 slices of ham and 1 tbsp light Italian dressing.   (apparently "mascot in the middle above the container" is the common angle for both shots.  Apologies for the lack of imagination and effort in taking the shots from different perspectives)
I also had a few cashews.  (I took some fruit for my afternoon snack, but wasn't really hungry so it's in our work fridge and I'll have it tomorrow)
Dinner tonight was a lean beef burger in a multigrain bun and some oven "fries".
I'll leave tonight with photos of Neva being "prepped" for upcoming Mardi Gras celebrations.  She's not impressed and not cooperative.  Oh well, maybe next year.
Oh, one more thing….a few of you asked why I have a short work week this week….I have Friday off and have an "excellent adventure" planned.  Stay tuned to see what I get up to.  (I'm building it up a bit more than it deserves, but oh well, it's a day off!)  In the meantime, I'll be back tomorrow.  Hope everyone's week has started out well!