HAPPY Monday!  Hope you all found something extraordinary in an ordinary day.  I started the day with something extraordinary to me…..Toast with Trader Joe's fig butter!!!
We don't have Trader Joe's here in Canada, and I can't tell you where/how I got this…because if I DID tell you, I'd have to shoot you!!!!   Kidding, sounds so much more illicit than it is, but I'm pretty excited by TJ's Fig Butter. (acquired with no passport!!!)  I'm a fig fiend…fresh figs, dried figs, I love figs in ANY form, so have been looking forward to trying this….and it didn't let me down.  OOOH!!!
I also have to show you Neva's new extraordinary "toy", her tent (which I found in a thrift store on Saturday – we've named it the "Bubble")  She LOVES it!!!   Here she is peeking out of it….
….and here she is doing her best imitation of Lady Gaga at the Grammy's last night.  See the mesh similarity!!!  :)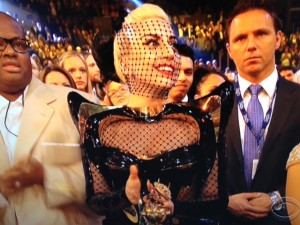 Here is breakfast, utane toast (from our favorite Asian grocery store) with the TJ's fig butter and chai tea.
I took an apple and an oz of cheese for morning snack, but only ate the cheese. The apple is still on my desk.
I had tentative lunch plans that didn't pan out, so I grabbed some sushi.  I had a veggie roll with mango and brown rice, and a spicy tuna roll (also with brown rice).
Later in the afternoon, I had some zero point kale chips that I made in Alison's dehydrator yesterday.  I share them with her and another colleague, who deemed these "a good batch".  It's funny how we are all becoming a bit discerning when it comes to kale chips.  :)
I did a little oops tonight….had planned something different for dinner, but didn't check the freezer – I thought I had something in there, that I didn't.  HOWEVER, I had a few of our "standby" blue menu (with slider thins) sliders.  I also had one potato and one butternuts squash, so made them into oven "fries".  For a very thrown together dinner, this was really yummy.
I also had a bit of white wine.
Anyone have any valentine's day plans?  Dennis and I are going to celebrate with a lovely meal at home.  I had planned on going to weigh in first, but timing isn't working for us….sooo….that means it'll be two weeks between "step ons".  Oh well, this week…real life is getting in the way, and that's ok. Real life is good…  Hope all of you have a good "heart day".  Whether you are in a relationship or not, enjoy the love we all have in our lives.  xo