It's Sunday night, and wow….I'm exhausted.  What a busy, busy weekend.  It's been great, but I need to do that old cliché "get back to work for a rest".  (not that I'm looking forward to getting back to work tomorrow.  sigh.  Oh well)
I felt almost "hungover" today (thought over the course of last night, I had two little cocktails and a bunch of ice water after that – so it was far from a hangover in the true sense).  We had a late night at yesterday's throwdown, and I guess my intense South American cooking fest wore me out.
BUT…no rest for the wicked.  My very good friend from Victoria was in town today, so I was up and getting ready to go down to Granville Island (a huge public market here in Vancouver) to meet her for a walk and brunch/lunch.   Here are a few pictures of some of the GORGEOUS flowers and just a couple of other things that caught my eye at the market.
And here is our brunch/lunch.  We split some calamari and a tempura spicy tuna roll.
We had the waitress take our photo, but frankly, we both looked a bit tired and I admit, I'm vain and I looked puffy.  SO….here is a reasonable facsimile of Pat and I.  :)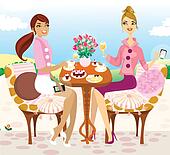 We then had a bit of Super Bowl hoopla.  I had some light cheese, Finn Crisp crackers and red pepper jelly…
…a few salt and vinegar chips (photo was fuzzy…but I think we all know what chips look like)….
……and Dennis and I split a Banana Bread Beer.  Actually, it wasn't my favorite, so I only had a few sips.
Once we got home, I threw in some laundry, but more importantly, threw in some kale into the dehydrator.  After this point laden, non workout weekend I'm going to need all the point friendly boosts I can get going forward.  I also pinned my first pins on my pinterest board.  Yippee!
Our dinner was a "melange" (good word) of leftovers from the freezer and the cupboard.  I had some leftover quinoa, half a can of chickpeas, some peppers and some frozen lean meatballs.  I cooked that all together with some plum sauce, and voila. dinner.
We also had a glass of white wine.
Now, I'm going to call it a night early, have a bit of down time and get ready for the work week ahead.   I hope all of you had a great weekend too.