You are currently browsing the monthly archive for August 2011.
Today's new word is "spinocity " – thorniness 
Happy Hump Day! 
I have a few vacation days at the moment, but I've been busier today than on most work days.  Which is fine, it's been good.
I got up early to endure urban spinocity and go blackberry picking again this morning.  I wanted to pick some for my parents, because we're going over to Victoria tomorrow and I thought they could load up their freezer, some for my "Cousin" Helen, and a few more for us.  I weighed the fruits of my labour when I got home, and I picked 12 lbs today.  
And yup, have lots of scratches to prove it! 
I LOVE berry picking, it's quiet, the air smells fresh even though I'm in the middle of a city, and it's "me" time I don't often get. 
The only downside today?  I kept singing the song "You Can't Stop the Beat" from Hairspray to myself.  I have NO idea why….but the earworm was planted. 
When I got back, I made an almond milk latte (with chocolate almond milk) with a piece of Steph's blackberry loaf and some greek yogurt with blackberries picked this morning.
I then set off to run a few errands, and went to visit my "Cousin" Helen.  (Helen, for those new to the blog, is the 86 year old daughter of my surrogate grandparents.  We call each other "Cousin" because I called her Mom "Auntie".  I REALLY hope I'm as spunky and sharp as she is when I'm 86!!  Holy smokes, there is NO dust on her and she is lovely to spend time with.)  I took her a big container of berries, half of Steph's blackberry streusal loaf and we sat around drinking cups and cups of tea and sorting out the world for a couple of hours.  Fun!
When I got home, I got cracking on freezing the blackberries, making a batch of blackberry jam…
…and finishing off the preserve entries for the fair on the weekend.  I made sangria wine jelly and "Sunshine" Relish. 
The wine jelly is red wine, orange and lemon juices, sugar and brandy.  (I can't lie, I have high hopes for a ribbon for this!   I've made it before and with some goat cheese and a piece of baguette?  YUM!!!)  Sorry for the less than exciting photos of the preserves.
The relish is based on a recipe from a preserve cookbook, it contains peaches, yellow peppers, vinegars, sugar, hot pepper and lemon.   I tweaked the recipe and added some mustard, saffron (for color) and chinese 5 spice.  I'm not sure this is ribbon worthy, but it too will be darn fine with goat cheese and baguette!
As the relish was simmering, Dennis and I shared a glass of wine.  I don't think I've eaten enough today because after one glass, my cheeks were as rosy as the wine jelly.
Dinner tonight was a grilled chicken breast, sauteed kale (with little bits of back bacon, lemon and garlic), 1/2 cob (the last) of our Doris corn and steamed beans.  (the kale and beans are from our friend Clint's garden.  Thanks Clint!!!  YUM!)
Now, I'm off to get our bags/preserves/Neva's gear all ready for the road trip to my parent's place tomorrow.  Look forward to seeing them, our friends, going to my favorite thrift store and the country fair over the next few days.    I'll be posting tomorrow from Victoria, have a great Thursday all!!! 
There are MANY kinds of Flat tops.
Flat top hair cuts:
Dick Tracy's Nemesis "Flat Top" (which actually bears a striking resemblance to me when I'm getting my roots coloured)
Flat top mushrooms
Flat Top Mountain in Alaska
….and now, the newest "flat top" – the muffins I made last night!!!  TA DA!!!!  :) 
OK…I'm no contestant on "Top Chef – Baker Edition" but I know my way around a muffin pan and am generally pretty confident that if I try a new recipe it'll likely turn out well. But last night?  Guess who overworked her muffin batter!!  ME!!!    Not sure what I was thinking when I whisked with aplomb…   However, I'm 100% sure these will taste good (they are all in our freezer) despite the sad look because I used the same recipe I used for this Blackberry Loaf!  YUM!!
I found this GREAT recipe for Blackberry Loaf on the wonderful Steph Chows blog a few weeks ago.  (Steph is the blogger who has hosted the jam exchange.  I'm sooo excited to be participating!!  Thanks Steph! – once I get Steph's ok…I'll post the recipe on the recipe page.  In the meantime, if you'd like the recipe, click the link above)  More uses for my blackberries to follow on future pages!!
OMG….I am LOVING the new mascot for today's photos.  FUN.
Breakfast this morning was a piece of Steph's loaf.  YUM!!!  LOVE the streusal in the middle.  And two cups of tea with fat-free creamer.
My morning snack was same as yesterday, cantaloupe with blueberries.
I met my wonderful friend Kulwant for a visit at lunchtime today.  (I'll have to get a photo of her on here SOON!!)  We took our lunches to work, but met in Whole Paycheque Foods for a good chinwag and catchup.  Hugs Missy!!    I had this green tea and 4 of Kulwant's gluten-free crackers.
My lunch eaten at my desk was a salad with tuna, red onion, red pepper, mushrooms, arugula and the last of my fat-free feta from Trader Joe's (to the border!!) with my fat-free balsamic dressing (I mix balsamic, nutritional yeast, dijon mustard and a touch of agave).
I also had a cup of cherries.
My snack this afternoon was celery, cherry tomatoes and a carrot.
Dennis and I sat on the deck after work and celebrated 2 day work weeks and upcoming jam fairs with a glass of wine.
I hang my head, I've neglected my poor little containers over the last few weeks, but some of the plants are still pretty!
Dennis was in holiday mode tonight, so we had "thai take out".  I had 1 spring roll, brown rice and grilled chicken skewers.  I added about 1 tbsp of Dennis' yellow curry sauce to flavour up my rice. YUM!!  Thank you "Thai Away Home"!
I may not be working tomorrow, but I have a VERY full day planned.  More on that tomorrow.  In the meantime hope your week is going well.
……today is the OFFICIAL 400th post of Weightingfor50!!!  WOO HOO!!!!  Happy 400th post little blog!!!!   Cheers to 400 (or so) more!!! 
Hope all of you in the East of the continent found Hurricane Irene MUCH less disruptive than predicted!!!!
Today is Monday, but it's KINDA my Thursday.  I just have a two-day work week this week.  I'm thinking we have things backward.  ALL work weeks should be 2 days long, and the weekends should be 5!!!   All pay scales, benefits and vacation accumulations however, should remain the same.  :) 
Breakfast this morning was my standard (lately) egg/ham wrap.  Today I added spinach, salsa and hot sauce. 
I also had two cups of tea.  (with fat-free creamer)
I took some cantaloupe and blueberries for my morning snack.
Lunch was leftover grilled zucchini, peppers and onions from last night and leftover beets from a few nights ago on a bed of arugula, topped with light feta, fresh basil from our deck and balsamic reduction.
I also had one cup of cherries.
My afternoon snacks were grape tomatoes, celery and carrots.
After work today, we were lucky enough to go to our friend Clint's place and share some of his garden harvest. 
Here is his garden.
Delicious and healthy kale.
Here is Clint harvesting.
And him proudly showing us his freakishly large…..beet.  
Thanks so much Clint, we'll put the kale, beans and freakishly large beet (and its surrounding greens – ok, that could sound dirty) to good use!!!    Seriously, isn't this the BIGGEST, borderline inappropriately shaped beet you've ever seen?????  
Dinner tonight was my home-made pizza.  Dennis' side was bbq chicken, mine was red onion, figs, prosciutto and basil topped with low-fat goat cheese, and after cooking, a bunch of arugula. 
I'm being a Martha "as we speak".  There is a loaf and a dozen muffins with some of the blackberries I picked yesterday in the oven.  Photos and recipes will follow tomorrow. 
Now, I'm off to mash some of the rest of the berries to prep for a batch of jam that I'll make tomorrow.  Hope everyone's week has started out well. 
It is a hot day here in Vancouver today.  I got up early to get out and pick more blackberries before the temperature rose too much. 
Here is the path I was on, and a few berry shots.  The heavy rain earlier in the week coupled with the heat of the last few days ripened them up nicely and I have now loaded up our freezer.  I will be making another batch of jam and doing some baking with some as well, but will get to that tomorrow. 
Here are my very berried up hands and the war wounds that remain from the thorns. (Woe is me!  NOT!!  HA!)
The fruits of my labour.  I think it's about 10lbs worth. 
When I got home, I had some yogurt with blueberries, blackberries and figs.  I also had an almond milk smoothie and an almond milk latte. 
I have felt REALLY tired today, so my energy level has been low.  As a result, I did some housework but also read and slothed around in front of our oscillating fans for quite a bit of time today.  Which is fine….I guess I needed that.
I snacked on two pieces of thin high fibre toast with 1 tbsp almond butter.
Some time later, lunch was a salad made with two tomatoes on a bed of arugula with 1 oz light feta cheese and a squeeze of balsamic reduction.  Woo Hoo, the local tomatoes are coming into the stores!!!
I made an iced latte with this morning's leftover espresso and some almond milk. 
Cocktail Sunday today was nothing fancy or new, it was Sangria.  I had leftover fruit, red wine and ginger ale from the sangria last night so thought it would be a good way to use it up.
We also had some rice crackers with hummus.
Dinner tonight was grilled flank steak with bbq sauce, grilled zucchini, peppers and onion with fresh basil and balsamic, and a cob of corn.
I also had a white wine spritzer, to cut the points down from a regular glass of wine.
So that's it…..the last weekend in August.  I'm only working 2 days this week, I've booked a few days off to make the labour day weekend a REALLY long one.  Hope this last week of summer (well, not officially, but you know what I mean! ;)) is a good one!!! 
Neva and I are both going to watch the sunset….
Today was one BUSY day.  It's about 11:00pm now, and I'm just slowing down.
I got up early this morning to bake these cookies.  Why was I baking large heart-shaped sugar cookies?   That will come clear very soon. 
While I was baking I had a smoothie made with "leftover" smoothie that I made but didn't finish the other morning, so I threw it into the freezer, brought it out today and whirled it up with a bit of extra almond milk.
Breakfast was blueberries, greek yogurt, figs and a bit of honey.  So yummy!
And I made a puffy almond milk latte.
After breakfast I ventured out to run a whack of errands, then stopped by the hospital on the way back to check in on my brother.   Happy to report he's on the mend. 
When I got back, the projects began.  Little tasks that I took on because tonight, we threw a wedding shower for our wonderful friends Janice and Alan, who are getting married next week. 
While I was busy, I picked at some turkey sausage, a weight watchers baguette and some hummus.
I decorated the heart cookie favours with Royal Icing and red sugar and cellophaned each individually. 
Made an heirloom tomato salad with feta and olives……
…and some sausage/tomato/olive/basil kebabs.
I also gathered up all the supplies I needed to make two pitchers of sangria.  (a red alcoholic version and white NON alcoholic) you'll see photos in a sec)
Here are Shalin and Anthony, who hosted at their home.
And their adorable girls Sofie and Pia. 
And Baby #3 who we'll meet next year. 
Here are the happy couple!  Congrats A&J!!!!!  We're thrilled for you!!!
Shower games were involved…..
Here is Janice attempting to identify Alan's feet. 
And Alan attempting to identify Janice's hands.
The "cross dressing" game!  (Don't ask!!!!)
Various other party shots.
I had one glass of "real" sangria, 2 glasses on "fake", and here is my plate.  Tomato and feta salad, kebabs, pear and goat cheese and a bit of prosciutto.
Look at this INCREDIBLE "kitchen cake" a friend of Shalin's made!!!  So impressive.  The decorations were made with rolled fondant, the filling was blueberry.
I had a bite of Dennis' piece and a spoonful of lemon sorbet.
Best wishes to Alan and Janice!!!  They are a lovely couple and it was so much fun to celebrate with them tonight.  
I'm looking forward to a relatively quiet day tomorrow.  How is everyone doing?    Thinking of you all on the East Coast as Irene is predicted to hit.  Sending good thoughts and wishes to everyone!!!!
To all my East Coast of North American readers…..stay safe while Hurricane Irene passes through.  I'll be following the news….
Here in the West, I was tempted to quote the cheesy Jennifer Hudson song "A New Day" as the lead to today's post, but just couldn't bring myself to be that hokey.   BUT….it really is a new dawn for me, today is Day 1 of "Chapter 2″ the Weight Watchers Sequel".   I'm excited and ready to "get 'er done".   (speaking of cheesy, look at this clip art!!!  What a frog on a lily pad has to do with "healthy living" I'm not really sure, but thanks anyway Google! :) )
Breakfast this morning was one of my favorites, the ham/egg wrap.  (and yay, Milo the Tiger is back!  (Hi Doris!!))
I also had some tea.  Not chai this morning, we were out….just plain old English Breakfast tea.  Yum.
My morning snack was some cantaloupe and blueberries.
I met my friend Andrea and her son Alec for lunch today.  The light wasn't good at our table so no photos of them were taken, but here is my google artist's rendition for you.
And here is my lunch.   My usual…..miso soup, tuna sashimi, a spicy tuna roll and a vegetable roll. 
Later in the afternoon I had some cherries.
Dinner was REALLY late, Dennis was out, I had some errands to run after work then went and spent some time with my brother in the hospital.  I had a piece of cod on a bed of arugula with steamed green beans, all topped with 2 tbsp Bolthouse honey mustard dressing and a cob of fresh corn sprinkled with nutritional yeast. 
I have some weekend prep to do tonight , so will wrap this up and wish everyone a good weekend.   Whether you are in Irene's path or not, hope you are safe and the winds around you are weak.  
Well, I ushered out the day before I start back on stringent point counting and the next chapter of health and weight loss with quite the bang.  The day was food and visit filled…..and it was worth every point! 
I opted out of early yoga again this morning because I had a REALLY full day ahead, and needed to get some things at home done before work. 
Breakfast was an english muffin with almond butter, an almond milk smoothie (with banana, frozen blueberries and frozen cherries).
I also had two big mugs of chai and some water.  (OK…I admit, on weigh in days, I wouldn't have had that much liquid before facing the scale, but today was my "starting point" so why not….)
My weight watchers leader Ana was wonderful when I told her about my need for a fresh start and my plan to literally start from scratch at pound one.  She completely understood the method to my madness, and not only gave me a fresh weight record, she "retired" my file to date and started me a new one effective today.  The new baseline has been recorded, it's all systems go.  Thanks Ana!!!!!  
My parents were in town for the day to visit my brother in hospital, and I met them and Dennis for lunch.  Thanks for lunch Dad!!!  :)
I had a veggie burger with caesar salad.  YUM!
I went and saw my brother on the way home from work myself.  He's on the mend, but has quite the road to recovery ahead.  
We had dinner plans with our friends Laura and Simon tonight.   We went to The Reef, our favorite Caribbean restaurant and we had a FEEDING, POINT FILLED FRENZY! 
I started out with a cocktail.  This is the "Queen's Park Swizzle" made with rum, lime, simple syrup, mint, bitters and topped with their home-made ginger beer.
Dennis and I split a plate of plantain fries and some baked jerk wings to start.
Because I was the designated driver, my second drink was a glass of the non alcoholic ginger beer.  I'm going to have to try to recreate this myself with stevia or agave….it's so refreshing and SOOOOO ginger-y.
Dinner was a chicken curry.  It was served with coleslaw, rice, chutney and riata.  I was getting a bit full, so ate the curry and the riata and some of the coleslaw but didn't touch the rice.   Great to see you L & S, we'll do it again soon. 
Now the feeding frenzy is behind me, the fridge is stocked with fruit and vegetables, my new file is started and I'm soooo ready to move forward and get back to the task at hand of dropping the last of the weight.   We have a busy weekend ahead, but I've already made plans so I can still have fun and stay on track.  Can't believe this will be the last weekend in August.  Where did the summer go????  What's on YOUR weekend agenda this week??
Today's new word is "oenophile " –  one who is fond of wine
Quick "hmmm" for today – WHY did someone google "mother's knickers" and how did they end up on my site????  Good grief!!! 
And to clarify, to my knowledge, MY MOTHER DOES NOT WEAR BLOOMERS!!!!!  :)  I may, but she doesn't!!!  :)
Had to share…look at the impressive sunrise from our deck this morning!   Actually, this photo doesn't do it justice, the color of the sky and the clouds made for an impressive backdrop to our morning.
Before I went out and about for the day, I had a toasted english muffin topped with a boiled egg and hot sauce. 
And I had some chai tea (complete with hanging penguin!)
Per normal Wednesday, I met Michelle for coffee, and this morning….I was feeling a bit "icy"!  I forgot to ask them not to sweeten my non fat iced coffee….oops….I don't usually have sugar in my coffee, but DAMN this was GOOD!!!!   And what the hey?  Tomorrow is new baseline weight, so today, bring it!  :)  (don't I sound "gangsta" when I say that??  HA!  NOT!!) I also had a giant glass of ice water so was VERY well hydrated.  Michelle's guest finger of course is in the photo.  I switched purses, so didn't have a mascot (or a bottle of gaviscon) on hand to pretty the photo up, so we used the jar of blackberry jam I'd taken for Michelle and Gary. 
I ran up to the hospital to see my brother at lunchtime.  Cautiously pleased to report it looks like he's slowly on the mend, however, will likely be in hospital for at least a week, so guess I'll be up there a lot over the next few days.   I was running a bit late this morning, and didn't have time to make lunch for myself.  I picked up this yummy turkey sandwich at a deli on the way back to work.  Sometimes a REALLY good, freshly made sandwich just hits the spot. 
I took one of my blackberry brick bars for later in the afternoon.  EEEK….that's the end of them.  What are we going to block our doors open with???  Kidding….
I had a glass of wine when I got home because I'm a oenophile. 
Dennis is out tonight, so it's just dinner pour moi.  Know what?  I didn't feel like cooking.  At all.  So what did I have???  A meal that I sometimes used to have years ago when I was a "single goil about town – living on my own".  Cheese and crackers.  Healthy as a meal?  WELL…sort of – calcium, protein….  Point friendly?  Not so much – the cheese was full fat.  Bit high on sodium?  Probably.  Did it go well with my wine.  Hell yeah!!
As I mentioned, tomorrow is my baseline weigh in, which means FRIDAY is Day 1 of "chapter 2" in my journey to drop lbs and be healthy.  (good thing Friday is day one, I'll be at restaurants for lunch AND dinner tomorrow)  The 34 lbs I lost in the last year…..buh bye…you are never welcome in my world again – and I won't speak of you for a long, long time!!  This week is a fresh new start.  I'm READY!!!! My motivation is back, my plan is in place…..BRING IT ON!!!!
WARNING:  Text heavy-ish post ahead! 
Happy Tuesday all.  Unfortunately, I didn't make it to yoga this morning, I had a TERRIBLE sleep last night (actually, more to the point LACK of sleep) and as it took until almost 4:00am to stay asleep, when my alarm went off at 5:15, I opted for the extra hour sleep. 
Not an overly exciting food or weight watchers day, but I have a good story. 
My brother unexpectedly underwent serious surgery late last night.  (and I didn't sleep…funny that!)   I work close to the hospital so walked over and see him during the day.  He was in a post surgical recovery room.  When I got there, I saw two other men and what seemed to be my brother half hidden behind a curtain.   My brother was in HORRIBLE distress, not only moaning in agony, but yelling profanities at the nurses, it was awful.   The nurse asked me who I was, I said his sister, and she asked me to have a seat, let her finish tending to him and she'd come and sit with me and give me the news of how it all went and what to expect from here.   He was on his side, his hair was blonde and dishevelled and his backside was exposed.  Now, I haven't seen my brother's bum since he mooned me while we were in our teens (thank God for that!) but from what I remembered, it was two big white cheeks and a "smile" – just what was facing me when I looked in the room.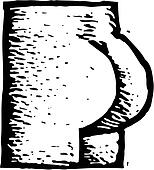 Once the nurse got him settled, she came and sat with me, put her hand on my arm, said he was having to stay VERY heavily medicated, was delusional and it was taking them some time to get him stabilized.  Then she said "it hasn't changed much since your sister was here earlier".  Um.  My sister?  I don't HAVE a sister.  I said to her, that IS him, isn't it?  Turns out my brother was actually in the bed ONE CURTAIN OVER….oops….
I pulled back the far curtain and lo and behold, my REAL brother was sitting up in bed, quite coherent (though heavily medicated) and had seen me come in, but was hooked up to all kinds of tubes and apparatus and couldn't flag me down.  Or call my name over the wailing of the poor fellow who inadvertently gave me a full moon.  All worked out in the end, and hopefully my brother and my new OTHER brother make speedy and full recoveries.  (I did take a photo of my brother because we were laughing at me toting my camera everywhere.  I won't post it, there is no need for that, but here is a picture of some of his apparatus.  Anything to make the patient laugh….)
Because of the drama, some of our plans for the week have changed.  However, I am determined to make my way to weight watchers on Thursday and step on for my new baseline weight.  (I was emailing my weight watchers buddy Melisa today – life is getting in the way of our walks and visits in person.  :(   Happy Anniversary Melisa and Evan!)  Anyway, Melisa said something along the lines of "good luck on Thursday, but since it's your NEW baseline, you don't really need luck.  And make sure you drink a BIG glass of water and wear heavy clothes".  Ah, ha, ha…she's right, a high weight this week will mean a stellar drop next!!!  Too funny Melisa! 
On to the regular day's recap:
Breakfast was toast with almond butter and my friend Doris' home-made raspberry jam.  OMG Doris, your jam is YUMMY!!!!  Thank you!!!  (speaking of jam, so excited, Steph from Steph Chows sent me my jam buddy's name for her blogger jam exchange today!!!  Hi Julie in St. Catherine's Ontario!  Look forward to shipping you off a couple of jars!!)
 I also had some chai tea.
Lunch was eaten at my desk.  It was a tuna wrap (that split apart when I rolled it.  OOPS…should have posed it with the ugly troll to make it look better!  Wish I'd though of that.) and some blueberries.
I also had one of my blackberry doorstop bars.  (they taste really good, but they're "chewy")
Later in the afternoon, I had some cantaloupe and a hard-boiled egg for protein.
Dennis was late tonight, so we had a quick throw together dinner when he got home.  This is Blue Menu whole wheat pasta with shrimp and scallops.  As I've said before, I'm not a HUGE fan of prepared meals, but the blue menu selection are good, they are low-fat, lower sodium and higher fibre than many of their frozen counterparts. 
I also had one mini crescent roll dipped in balsamic and olive oil
and a glass of SkinnyGirl margarita.
Sometime during the evening, we'll have another of my blackberry puree popsicles.  
So that's my Tuesday.  I'm officially very tired now, and will be wrapping this up early and getting to bed.  With luck, I'll actually get sleep tonight and tomorrow will be much fresher.
Many of you know I've been whining over the last few days about disappearing comments I've made on blogs I follow regularly.  Guess what I found out today???  Many comments I've been making have ended up NOT in the big abyss of blog comments, but in people's SPAM folders.   Not really sure why…..I assure you, I am not trying to sell any of you off shore investments, naughty services by women of ill repute or devises to extend ANY part of anyone's anatomy.  If I've magically disappeared from regular comments on your blog, check your spam folder, you may see a note from me.  (and I'm sure if you do, it'll be VERY VERY witty!  Not! :) )
Monday morning already.  HOW did that happen so quickly????
Monday breakfast for me was one of my lemon/blueberry muffins and some blueberries.  (DAMN, forgot to post the recipe as I said I would.  Will post it tonight as soon as this post is published)
And some chai tea.  (with my new duck mascot)
Lunch was a sandwich thin with egg salad, cantaloupe and one of my blackberry bricks bars that I made yesterday.  The bars are VERY tasty, but VERY dense because they are fat-free.   If I do need a paperweight, doorstop or if I decide to press some flowers, they'll also be very handy.
This afternoon I had some cherries.
We had a yummy "breakfast for dinner" dinner tonight.  I had some turkey sausages that needed using up, so we had them, scrambled eggs and toast.  
For dessert, we broke into the blackberry popcicles I made yesterday.  OMG…these are SOOOO good.  Can't wait to experiment with other fruits!  (and how fun are these little holders?  They have a built-in "straw" so you can sip the melted bit…)
Quick post tonight, I'm off to prepare for early yoga, and also read this month's Clean Eating magazine.  As I mentioned a few days ago, this Thursday is "Day one" of my new weight watchers chapter, and part of my commitment to stay motivated is trying at LEAST two new recipes per week.  Time for me to get researching….